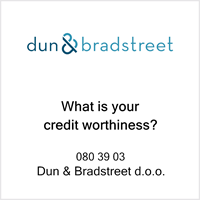 PDiVision is a proud owner of a triple A Bisnode credit rating certificate of excellence. It has been a widely recognised proof of an above-average  company in the world of business.
Tens of statistically significant variables, tested formulas on the basis of financial data, blockades, payment habits and lawsuits demonstrate safety, competitiveness, sustainability, stability, excellence and reliability of business entities. The better the certificate of business excellence, the greater the trust and reputation on the market.
Certificates for the following 12 months predict protection against deletions or insolvency, compulsory settlement or liquidation, deletion from the business register and blocking of the entity's transaction accounts. Business excellence is also a message for business environment on good financial  results, sustainability and stability, since it is a proof of continuous flawless operations, as well as excellence and reliability due to good payment  discipline.
These indicators represent the central part of the credit rating system, which is the basis for the rating classes (A, AA, AAA). The key factors also include the trends during the year, as the model detects fluctuations, which are alleviated with increased efficiency and reduced risk by the best business entities. Accordingly, the certificate of business excellence also guarantees optimality of business.